In July of 2018, ATA International Holdings embarked on a Remote Site Staffing project in the Solomon Islands. The Solomon Islands are a group of Islands located in the Pacific Region and presented a number of unique challenges that we were able to overcome. We placed Paramedics on site for a multinational company operating a production facility. The client required an operational clinic for Employees, Expats and surrounding Local Community. As well as working together with Occupational Health systems and the Emergency Response Plans. A Medical Clinic was provided, however, the Clinic required upgrades. New procedures and upgrading of equipment to meet industry standards, as well as a new organizational structure. Our fantastic and professional Paramedic on site started this process by repainting, repairing and reorganizing the entire clinic.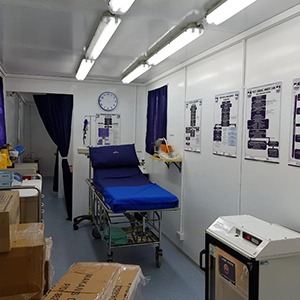 Remote Site Staffing and MERP Planning
Included in this particular Remote Site Staffing project was the planning and writing of the Medical Emergency Response Plan or MERP. The MERP was interesting task as the location, being the Solomon Islands, was faced with Cyclones, Earthquakes and Tsunami risks. Due to the location of the Site our onsite Paramedic subsequently created a separate Cyclone MERP, along with a Cyclone Emergency Pack.
As part of our company mission, our Paramedic onsite provided Training for the First Aiders to comprehend the Cyclone MERP. As well as to understand the contents of the Cyclone Emergency Pack. The teams were also trained in TRIAGE which is required in an emergency situation. At the end of the one and half hour training session the First Aiders were able to understand their roles with the MERP, and what would be expected of them during an emergency of this kind.
Evacuation Drills
Each Department in the Organization was informed of the MERP Plan, and was placed on all the notice boards in the various departments. Displaying the MERP Plan will assist in the safety of the employees during an emergency situation. A planned Cyclone Evacuation Drill was completed and all employees and staff responded in the correct manner. Putting the training and upskilling our Paramedic completed to the test.
Due to the volatile nature of the Solomon Islands, our Paramedic deemed in necessary to create a MERP Plan in the case of an Earthquake or Tsunami. Once again, the MERP was developed, explained, training provided and a subsequent drill took place with employees and staff members.
The focus of all the drills was to provide employees insight into evacuation procedures. For first Aiders to understand what their expectations are.
To find out more about our Remote Site Staffing, please contact us