Our client made the decision to go ahead with the construction of a new Clinic at the Brarudi Brewery. ATA International Holdings staff were instrumental in the set-up of the Emergency Department of the clinic.
The clinic was opened by the General Manager of Brarudi Brewery Bujumbura, Burundi, at the ribbon cutting ceremony. At her side was Dr Kamo, Chief Medical Officer of the clinic. Marie Sebatigita, Human Ressources Manager. Other guests included Departmental Managers and Engineers, retired doctors and nurses from previous years. Due to COVID-19, the guest list was small consisting of 30 people who were guided through the clinic and various departments in 3 groups of 10.
The guests were then ushered into the Brarudi Bar where light refreshments were served as part of the opening.
The Clinic will service the Brewery Staff and their families, including expatriates. The lab is very busy and this is utilized by the local staff and the expat staff.
The ATA International Holdings staff members on-site are primarily responsible for the Management of the Emergency Room. Ensuring that all equipment, medications, and consumables are kept in good working order and all stock is managed and secured. Our on-site paramedics assist the clinic Nurses with any serious cases that enter the clinic from the Brewery, medical or trauma,
Our on-site staff are On call 24 hours a day, 7 days a week as an Emergency Response Team to all expat staff working at the Brewery, their families, the Dutch Embassy and the Dutch Ambassador.
Opening of the New Clinic (June 2021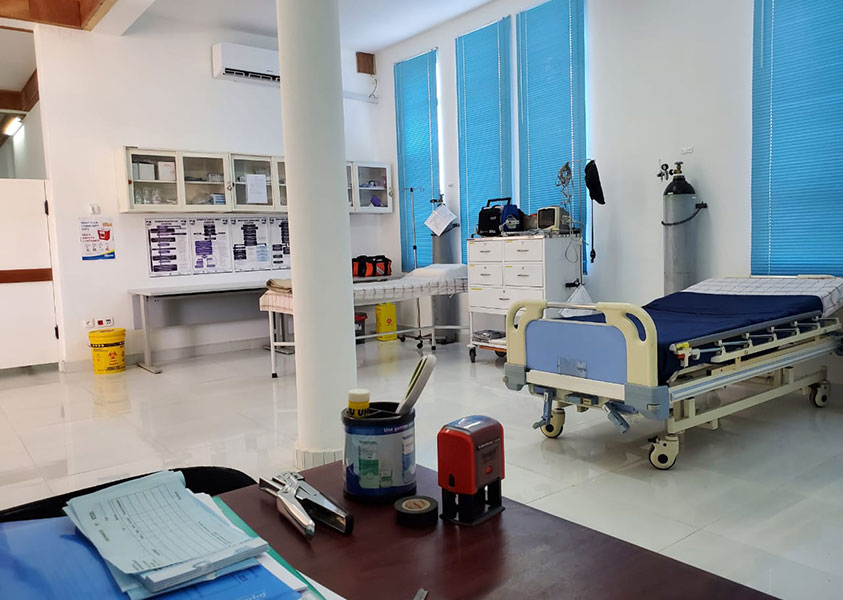 Our on-site staff are trained for any medical or trauma emergency. They are authorized to treat, stabilize and ensure the patients get the best care and if necessary, arrange aeromedical evacuation on behalf of the patient.
With a focus on training, our on-site staff are responsible for First Aid Training of the nurses and First Aiders at the Brewery. Training of Nurses is focused on Emergency stabilization, treatment, and transportation to hospital.
Paramedics also focus on Advanced Cardiovascular Life Support (ACLS) training, managing a serious patient, resus. The training is important in building a good understanding in the event of an emergency of each person's roles and being able to work together as a team.