Regular maintenance of equipment, machines and the work environment is second nature in most industries. It promotes a safe workplace and healthy workforce. Lack of maintenance or inadequate maintenance can lead to dangerous situations.
The importance of Training and Upskilling cannot be overstated in the world of emergency services. Where life safety is at risk , competence of the responders should be paramount. With time, competent and qualified staff fall into knowledge and skills attrition, which can have devastating effects in an emergency situation.
At ATA International Holdings we focus on the process to continuously update and refresh knowledge while decreasing the effects of skills degradation. Offering our clients, a range of accredited and bespoke Training and Refresher programs for both Medical and Rescue staff members.
Recently the ATA Team assisted a client with a Refresher and Competence training program on Audiometry, Spirometry and Vision Screening for 5 staff members at our Clients training centre in Equatorial Guinea. Although the world is still reeling from the COVID-19 Pandemic our team worked tirelessly to get our training instructor, Wendy Van Wyk, on the plane with all the necessary COVID tests, and country regulatory Visa requests.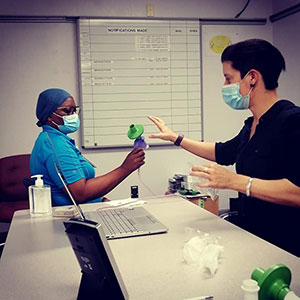 Audiometry, Spirometry and Vision Screening form part of the standard Occupational Health test that employees undergo to ensure they are fit for duty.
Audiometry is measurement of the range and sensitivity of a person's sense of hearing. It is used to diagnose the extent of hearing loss in a person suffering from suspected hearing loss, or other disorders of the ear. All employees who are exposed to noise at and above the noise rating limit for hearing conservation purposes or who are required to enter noise zones, should undergo audiometric tests in accordance with SANS 10083:2004.
Vision screening is a brief assessment that assesses the presence of a vision problem or a potential vision problem. The key purpose of vision screening is to evaluate an individual's visual performance regarding the ability to see details at near and far distances and to see different colours.
Spirometry is measuring lung function, specifically the volume and flow of air that can be inhaled and exhaled. It is useful in assessing conditions such as asthma, pulmonary fibrosis, cystic fibrosis, and Chronic Obstructive Pulmonary Disorders. This test is done to monitor the lung function of a person who is regularly exposed to hazardous chemical substances such as dust.
In conjunction with the Refresher and Competence training, our client requested 2 new sets of Spirometry Equipment due to their current equipment being old and outdated. Our procurement department procured all the necessary technical equipment for our client.
Contact ATA International Holdings to learn more about how we can assist you with training or upskilling of your staff.