Medical emergencies pose a critical challenge for multinationals operating remotely across Africa. This is especially true for those across the Oil & Gas, Mining, Exploration and Construction industries. These remote project sites are frequently situated in isolated and rough terrain, making access to professional medical services and occupational health management challenging. The dangerous nature of many of the jobs on these sites can result in illnesses, accidents, and medical injuries, significantly impacting operations workforce well-being and safety. One way to solve this challenge is through effective and efficient medical staffing.
What is Medical Staffing?
To understand the value of medical staffing as well as its role in safety management in remote locations, it is essential to understand what the term means. Simply put, medical staffing refers to the process of fulfilling vacancies in a variety of different types of healthcare settings. In this case, it relates to the supply of qualified expert medical personnel, including doctors, nurses, paramedics and more, to the remote site where the medical contingent will work to educate and treat the workforce, maintain high health and wellness standards, and provide necessary medical emergency services.
Medical staffing is a crucial aspect of workplace healthcare, especially in remote locations where access to adequate and appropriate can be limited. By having medical personnel on-site, workers can receive prompt medical attention, reducing the risk of severe injury or illness. Furthermore, medical staff can provide preventive care and educate employees on elements impacting their health.
In addition to emergency and preventive care, medical staffing can encompass a range of other services, including occupational health assessments, injury surveillance, and medical record keeping.
The medical staff will work closely with the organisation's management to ensure that international medical standards together with the policies are followed. The medical personnel can empower the workforce by educating and providing the appropriate medical education.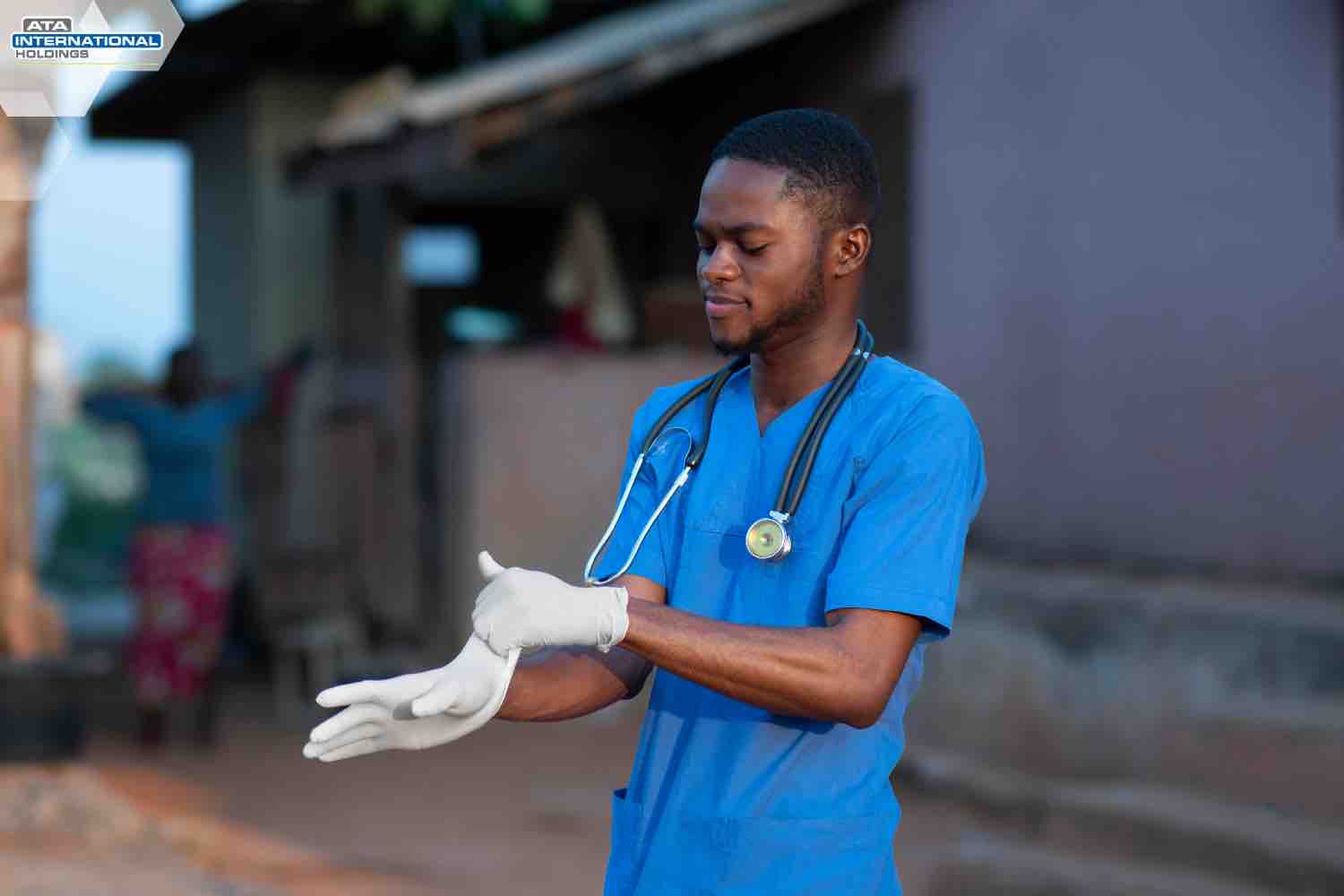 What is The Importance of Medical Staffing?
With operations in remote locations across Africa, specific challenges can be expected, especially regarding access to healthcare. These areas are often far removed from other settlements and have challenging terrains, which makes it difficult to access emergency medical services. Medical staffing solves these challenges by providing on-site immediate medical intervention and ongoing medical care.
On-site medical staff shall be able to conduct routine health check-ups and screenings, provide preventative care and educate the workforce on maintaining good health while working on the project. On-site medical staffing ensures the workforce's safety, allowing them to carry out their duties efficiently. This proactive approach to healthcare benefits employees and helps minimise work disruptions whilst increasing productivity.
How Does Medical Staffing Work?
Medical personnel working in remote locations often face unique challenges. Ensuring medical staff have the necessary training, equipment, and support to provide professional medical care is vital. Medical staffing companies typically have a large pool of healthcare professionals, including but not limited to doctors, nurses, and paramedics, who have experience working in remote and challenging environments. These professionals are carefully screened, selected based on their qualifications, experience, and ability to work under challenging conditions.
Once the medical staffing company has provided the necessary personnel, it is the responsibility of the managing company of the remote site to ensure the medical staff have access to all the essential resources and support to carry out the assigned duties effectively. This may include providing adequate facilities as well as access to medical equipment, supplies, and communication systems. Medical personnel working at remote locations must be prepared to respond to emergencies and medical situations that may arise, including after hours. As a result, medical staff must also be able to work independently and make quick, informed decisions to provide expert medical care.
In addition to providing medical treatment and preventive care, medical personnel working in remote locations may be responsible for educating the personnel at the site on health risk issues. The lessons may include measures to prevent illness or injury and training on basic first aid in addition to emergency response procedures.
What to Look for in a Medical Staffing Company
Certain elements should be considered when choosing a medical staffing company for remote locations. The most significant of these are international regulations. The medical staffing company and personnel must meet all the international regulatory standards and have the experience, training and qualifications necessary for compliance.
The company's expertise and support for remote sites is a crucial consideration. The adaptability and responsiveness of the remote medical staffing firm is of utmost importance, as the dynamic nature of remote locations can often result in unexpected events.
The ability of the staffing company to quickly adapt to changing needs, such as providing additional medical personnel during peak periods or effectively handling emergencies, is essential. It is vital to ensure the medical staffing company has access to the necessary equipment and supplies to provide quality care even in the most remote settings as well as assess the company's insurance and liability coverage.
Additionally, the organisation's management should consider the medical staffing company's level of communication and transparency. The remote locations of many of these projects may pose challenges regarding accessibility and communication, making it necessary to choose a company that maintains open communication lines with its medical staff and clients.
It makes sense to look for a company with a proven track record of delivering quality care and professional medical staffing services. The company must have the experience and understanding to ensure that medical staffing and the development of medical facilities succeed within this kind of working environment.
Conclusion
Medical staffing plays a critical role in ensuring the well-being and health of personnel at remote locations throughout Africa. Through the provision of on-site medical personnel, medical staffing addresses remote sites' distinctive challenges related the workforce health. In selecting a remote medical staffing firm, examining elements such as the company's compliance with international regulatory standards and prior experience servicing remote locations is critical.
Aidan Justus, Commercial Director, joined the ATA International Holdings team in March 2018 and has amassed 5 years of experience with the company. With a relentless drive for success, Aidan is responsible for developing and implementing strategic commercial initiatives, monitoring performance and building strong relationships with clients and stakeholders. In addition, Aidan actively supports and collaborates with senior management, leveraging his expertise and ambition to achieve organisational objectives. As a former sportsman turned ambitious businessman, Aidan Justus brings a unique blend of determination and business acumen to ATA International Holdings.